June 1998
CLASSES ANNOUNCED FOR THE 1998 AMP BATHURST 1000
Mr Greg Eaton Chief Executive for the AMP Bathurst 1000 organisers announced on 9th June that 1998 would hearld the return of Classess within the Great Race.
This is particularly exciting news for New Zealand Teams with the inclusion of cars that comply with the New Zealand Touring Car S Schedule. Mr Eaton expects New Zealand to be well represented in a race that has seen Greg Murphy, Craig Baird and expat Jim Richards cross the line at the head of the pack.
This offical annoucement adds fuel to rumours currently circulating that suggest a contingent of Toyotas, BMWs and Nissans may "Skip the Ditch" to compete. Our spys will keep you informed!
---
GREG MURPHY SUPPORTERS CLUB LAUNCHED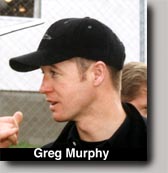 Greg Murphy was on hand at the Taupo Round of the NZRDC Series to assist with the launch of his Supporters Club. Although still associated with the Holden Mobil Team, Greg intends competing in the upcoming Indy Lights championship in the United States. The Indy Lights Championship is seen as a stepping stone for promising drivers into the senior Indy Car Formula. The costs associated with such a campaign are substantial and it is envisaged that the Supporters Club will assist in furthering Greg's International career.
---
GEOFF BRABHAM TO COMPETE IN NZRDC SERIES
Lyall Williamson, head of International Motorsport announced on 14th June the addition of a second BMW 2.0 to contest the NZRDC Series and join NZRDC Series leader Jason Richards.
Ex BMW Australia driver Geoff Brabham will pilot the Uniden NZ sponsored BMW that took Brett

Riley to a championship victory in the 1997/98 NZTC Series. Brabham comes from one of Australia's great racing familys. His father Sir Jack Brabham was not only crowned World Formula One Champion, but built the winning car and his brother David is an accomplished driver based in Europe.
Geoff along with brother David brought their BMW Super Tourer home to victory in the 1997 AMP Bathurst 1000 after front runners Paul Morris and Craig Baird were relegated because Baird had exceeded the allowable time behind the wheel. Other career highlights include Winner Le Mans 24-hour sports car race '93, IMSA GTP championship '88-'91, Can-Am champion '81, USA Super Vee champion '79, winner Sandown 500 '93, winner IROC Series Michigan '92-93, 2nd Australian Super Touring Championship '95/'97 and 10 starts Indianapolis 500 '81-'93.
---
"VOICE OF MOTORSPORT" TO COMMENTATE IN 1998 GREAT RACE

The voice of Formula One, Murray Walker, will again guest as part of the commentary team at the AMP Bathurst 1000. The inclusion of Walker, who's voice is instantly recognised by motorsports fans worldwide, further supports the AMP Bathurst 1000s reputation as one of the world's great international motorsport events. Amongst the list of approximately 109 countries receiving coverage of the 1998 AMP Bathurst 1000 will be New Zealand, with an estimated viewing audience of one million people. It is understood that TVNZ will screen the race live.
Got something you'd like to share with us. Then drop us a line!