January 1998
BMW Here for the Duration

The end of last year saw the withdrawal of the official factory backed BMW Australia team from the Australian Super Touring Car Championship. However, the smaller but no less successful BMW Motorsport New Zealand team intend completing this year's New Zealand Touring Car Championship before deciding upon their direction next year. Team manager Lyall Williamson returns to New Zealand for the second half of the season after stunning successes managing the BMW Australia team during the Australian Super Touring Car Championship and the AMP Bathurst 1000. The New Zealand BMW motorsport team had been expertly managed by Crew Chief Martin Collins in Williamson's absence. - 3rd January 1998
Possibility of a Winter Series in 1998
Recently the New Zealand Racing Drivers Club held two presentations to gauge the level of support for a Winter Motorsport Series which would include races for New Zealand Tour Cars. A number of Touring Car Drivers and Team Managers have attended the meetings. It is likely that the series will consist of five North Island Meetings held at Pukekohe, Taupo and Manfeild.
Super Tourer on Show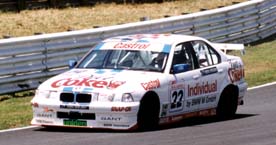 The BMW Australia Super Tourer driven by Craig Baird during the 1997 Australian Touring Car Championship was on show at the Manfeild and Pukekohe rounds of the Street Skills Motor Racing Series. The car drew excellent crowd interested in the type of car capable of taking out the Australian Super Touring Car Championship and the AMP Bathurst 1000. As an added bonus fans got to see Baird put the car through its paces at both venues. It is probably the last time New Zealand fans will see him driving the marquee that he campaigned to such success (see next story) and it may be a while before Craig's New Zealand fans see him for a while as he heads off to drive in the Daytona 24hr race and then like Paul Radisich on to Britain.
Baird Ends Long Association with BMW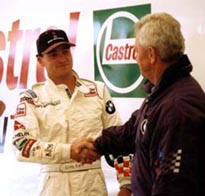 In an emotion farewell, long time BMW driver Craig Baird was presented with a trophy from Jerry Clayton of the BMW Dealership Network to acknowledge Craig's tremendous contribution to the success of the BMW Motorsport Team. It was the end of a close and extremely successful partnership between Baird and Team Manager Lyall Williamson who called on David Oxton to say a few words on Craig's achievements. He said that while we are all sad at BMW Motorsport's loss, it was satisfying to see that a great New Zealand driving talent is to get the opportunity to show how good the present group of young New Zealand drivers are today.
BMW Calls It a Day
BMW New Zealand have announced they will no longer take an active part in the New Zealand Touring Car Championship. With Brett Riley's win BMW took out it's fifth Touring Car Championship in as many years. Mark Gilbert, BMW NZ General Manager is quoted as saying "We're busy launching the new 3 series BMWs this year and at this stage there are no plans to develop a race version of the car in 1998".
Riley Celebrates 25 years of Racing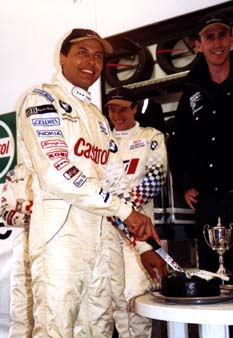 Like most of his season, Brett Riley's timing was impeccable, winning both the New Zealand Touring Car Championship and the one off New Zealand International Touring Car Championship in his twenty-fifth year of racing. Following his father's passion for racing Brett began racing Karts before graduating to Formula Ford and winning most of the Formula Ford Championship races in 1974. Brett then moved to Europe to race in Formula 3 and it was during this period that he partnered Nigel Mansell and raced against other great drivers like Alain Prost. Two career highlights during this period were winning the Donnington Park International for F3 in both 1977 & 1979. He is one of the few New Zealanders to ever hold a F1 Super Licence. Upon his return to New Zealand in the 1980s he drove championship winning Toyota's and BMWs. Initially intending to partner Denni Hulme in the newly formed BMW Motorsport team before Denni's untimely death, he provided a mature balance to the enthusiasm of rising stars Craig Baird and Jason Richards. There are few in New Zealand motorsport who don't know Brett and many such as Craig Baird acknowledge the important contribution he has made to their careers. To celebrate his fantastic achievement he was presented with a cake by the BMW Motorsport team at the season's end.
Got something you'd like to share with us. Then drop us a line!