December 1997
Mansell Out
Former World Formula One and Indy Car Champion Nigel Mansell no longer appears to be coming out to New Zealand for the second half of the 1997/98 NZTC Championship. As well as having other drives (possibly 24 Hour Chamonix Saloon Car Endurance Race) in late January 1998, it was all getting a little rich and difficult for the organisers to come up with a package to satisfy Mansell. - December 1997
Riley In
Meanwhile Mansell's former F3 team mate has been confirmed as BMW Motorsports choice to complete the NZTC Championship in the car previously piloted by four time NZTC Champion Craig Baird. Riley officially received the keys to the car from Baird at a Press Conference held at the team's headquarters in Parnell, Auckland. Riley leads the NZTC Championship after the first half of the season from his team mate Jason Richards, with the Neil Allport prepared Ford Telstar of Barrie Thomlinson currently running third. - December 1997
Bigger Fields in the New Year ?
While a small field is still due to line up for the Ruapuna Round of the Street Skills New Zealand Touring Car Championship, larger fields are expected for the remaining North Island Rounds. Good news is the likely return of Ed Lamont, top privateer and organiser of the New Zealand Racing Drivers' Dunlop Centennial Cup Series held in Taupo during October 1997. Always competitive and never short of an opinion about the health of motorsport in New Zealand, Ed and at least 4 or 5 other drivers look set to boost the size and interest in the field. - 28th December 1997
Baird to Race in British Touring Cars in '98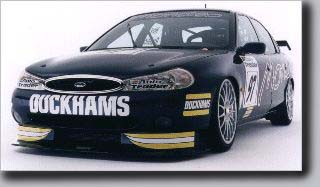 It appears four time NZTC Champion Craig Baird has nailed himself a drive with the Ford Mondeo team of Kiwi Dick Bennetts in the Autotrader British Touring Car Championship for 1998. A position arose in the team with the departure of Paul Radisich to the Peugeot team. The history of Dick Bennetts's West Surrey Racing is prestigious. Those who have driven for the team (mainly in F3) include Ayrton Senna, Damon Hill, Eddie Irvine, Mika Hakkinen, Jonathan Palmer, Roberto Moreno, Mauricio Gugelmin, Roland Ratzenburger, Christian Fittipaldi, Rubens Barichello, Pedro Dinez and most recently Paul Radisich. - 30th December 1997
Got something you'd like to share with us. Then drop us a line!